Focused on Solutions,
NOT ASSETS.
ACERTUS can uniquely solve challenges created by capacity limits. As a platform with a vast carrier and driver network, we provide access. If there is capacity in the open market, we will find it, providing OEMs, auctions, dealers, and fleets the ability to flex their auto logistics needs based on demand.
OUR FULL SUITE OF AUTO TRANSPORT SERVICES
Our comprehensive services mean we can partner with a wide variety of customers including, but not limited to: OEMs, Automative Dealers, Car Auctions, Auto Remarketing Companies, Mobility Companies, Fleet Management Companies, Relocation and Moving Companies, and Individuals.
A logistic solution for all your auto transport needs, we not only deliver vehicles on time and safely to their destinations, we also deliver competitive rates, faster speed to market, reduced risks, improved visibility and increased productivity so you can do more, worry less and get back to business.
As a reliable transport solution, you can expect quality performance alongside reasonable rates. Our approach allows you to centralize your processes and identify bundling opportunities where you can transport multiple vehicles more quickly and cost-effectively.
Plus, our proprietary auto transportation management system, VINlocity, allows you to access powerful analytics including all transport activity, so you have more freedom to identify opportunities, analyze costs and remove inefficiencies, leading to significant transportation spend savings.
INCREASING YOUR SPEED TO MARKET
Through our large, carefully vetted network of carriers and drivers, wide availability and flexibility we can ensure a faster delivery, no matter where your vehicle is headed, the required capacity or whether the move is short- or long-distance.
Delays due to lack of capacity are essentially eliminated through our car carrier network. With transport carriers of multiple sizes, we are able to grow customers' capacity and increase their speed to market.
We also have a highly trained drive away team, which can serve you and ensure speedy deliveries, no matter whether you need to move one vehicle or thousands. Our drive away service covers the United States and Canada, so you know you'll be covered regardless of the beginning or end destination.
With our emphasis on quality, safety and asset protection, we remove unnecessary risks, ensuring carriers and drivers are well-versed and experienced in vehicle delivery protocol. Carriers and drivers for all car transports are then pulled from our well-established and strongly vetted network.
Additionally, with comprehensive liability insurance and contingent cargo insurance coverage both in place, we deal directly with the insurance company on your behalf. All transports are covered, so you are left with a lower risk for claims, a higher generated profit and overall peace of mind.
Our Safer Ship system checks the Federal Motor Carrier Safety Administration (FMCSA) website nightly to confirm the status of our carriers and their insurance. If there are any failures or changes to a carrier's status, we are notified immediately and the are removed from our network until we are able to verify that the issue has been resolved.
ACERTUS also takes bold measures to ensure the health, safety and well-bing of our customers, employees, and suppliers. Out of an abundance of caution, we are taking the following precautions in addition to practicing social distancing:
IMPROVING YOUR VISIBILITY
Our integrated and easy-to-use transportation management system VINlocity gives you wide visibility and robust analytics, as well as the ability to select car transportation services or make changes as needed.
This system even has a portal, just for carriers and drivers, that allows them to operate more efficiently and consistently report real-time data back to you.
With this access to real-time tracking and visibility, you can better anticipate and prepare for your vehicles' arrival, so you can schedule detailing, maintenance, car washing and more – reducing any downtime and ensuring your teams can quickly make these incoming vehicles road-ready.
OPTIMIZING YOUR PRODUCTIVITY
As your single auto shipper, we can help you realize increased efficiencies and preserve your time for working with customers. While we focus on transporting your vehicles, our simple and intuitive platform will streamline your active role in the process.
Ultimately, you will spend less time worried about auto shipping, transport logistics and wasting productivity, and more time focused on sales, sales opportunities and growing your business.
We protect our clients and their assets with the most comprehensive primary insurance coverage in the vehicle transport industry.
Our in-house Carrier Compliance Team carefully vets each and every carrier and driver to ensure they meet our high standards.
We take pride in our consistent 99.5% damage free record.
From the moment you place an order, a knowledgeable account representative will be your single touch point throughout the shipping process.
LEARN MORE ABOUT VEHICLE TRANSPORT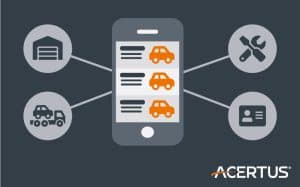 Consumers have more options than ever before when it comes to vehicle ownership. Beyond purchasing and leasing options, vehicle subscription services are here and becoming increasingly popular. Similar to subscriptions
Stay ahead of the curve and have industry insights delivered directly into your inbox.