AN INTELLIGENT APPROACH TO AUTOMOTIVE LOGISTICS
ACERTUS is the only tech-enabled automotive logistics marketplace to move, store, recondition, title & register finished vehicles. This start-to-finish, omnichannel offering is driven by a transformative combination of tech, people & expertise turning once complicated logistics into a competitive advantage.
SIMPLIFY & STREAMLINE AUTOMOTIVE LOGISTICS
Through a transformative combination of technology, expertise and infrastructure, ACERTUS has created the only completely comprehensive approach to automotive logistics with the ability to move, store, recondition, title and deliver vehicles anywhere in North America.
Unique ability to surge to meet demand and exceed market conditions with a carefully-vetted network of carriers and drivers, 55 secure storage and service locations, compliance, title and registration processing capabilities throughout North America.
From the moment you hand over the keys, our team ensures your assets are fully protected, delivered on time and damage free. We also navigate the complexities of state rules, regulations and requirements to ensure accuracy and reduce risk of fines and fees.
Created in 2018 from the consolidation of adjacent services in vehicle delivery, ACERTUS has redefined logistics by aligning it with the trends and demands brought on by digital retailing, increasing efficiency, reliability and upshifting the customer experience.
OPERATE AT THE HIGHEST LEVEL OF EFFICIENCY
ACERTUS is what the future of automotive logistics looks like. No boundaries on delivery. Data-driven execution. The products, infrastructure, partnerships and expertise to lead, relentlessly. Our platform removes friction and improves velocity through innovation of technology and service throughout the lifecycle of a finished vehicle. 
Stay ahead of the curve and have industry insights delivered directly into your inbox.
Although the automotive industry is nearly two years removed from the onset of the COVID-19 pandemic, the new-vehicle inventory shortage continues due to a lack
The year 2021 is coming to a close, which means it's time to think about filing taxes for fleet vehicles in 2022. Businesses will want to get ahead of any approaching tax deadlines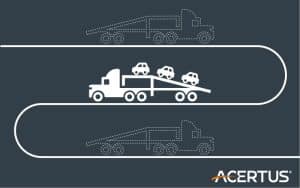 A whirlwind of events currently impacting the automotive industry have caused a shortage of vehicle inventory, numerous delays to the supply chain and tight carrier capacity. A longstanding driver shortage has only been further exacerbated by a
ACERTUS, an omnichannel automotive logistics platform, today announced Dr. Eric Hanson as its lead data scientist. Hanson will continue to generate data-based insights and predictive
Inc. magazine today revealed that ACERTUS has been named on its annual Inc. 5000 list, the most prestigious ranking of the nation's fastest-growing private companies.
ACERTUS, a tech-driven automotive logistics and services company, today announced the appointment of Paul Malone to the role of chief revenue officer (CRO). In this