VEHICLE HOME DELIVERY & PICKUP
WE GO THE FINAL MILE
Beyond shipment delivery time and cost, personalization is the new differentiator in automotive logistics. The greatest opportunity to highlight this customer expectation is in the critical last mile, and with branded white-glove service, it can be the best mile as well. The last mile may be the most challenging, and the costliest, but it also has the most opportunity to create customers for life. 
Our dedicated auto transport team will safely move your vehicle all the way to its final destination by one, or a combination of, our vehicle transport services. We are experienced in residential delivery including limited-access areas such as densely-populated cities, narrow streets and roads with low-hanging trees.
Our robust driver network and wide geographic coverage allow our team to tackle shorter-distance, local moves via our drive away service offering. ACERTUS' drivers can handle any move, any time, anywhere with the service you deserve.
For longer distance moves or out of state sales, combine our full suite of services including car haul, drive away and vehicle storage. Our 66 distribution hub locations help prepare your vehicle for its final destination – no matter the distance.
For the ultimate home delivery experience, we offer white glove delivery service. Our highly trained and professional drivers and car haulers arrive dressed in company-branded gear. Vehicles arrive fully detailed, fully fueled and fully ready to drive. 
Select our home delivery service and you can rest easy knowing that your vehicles will be in the hands of highly trained, well-experienced auto transporters from pickup through the final drop-off. Our strong network of more than 7,000 active carriers and 1,000 drivers are all uniquely qualified and equipped to guarantee secure home deliveries that prevent delays, improve speed to consumer and meet your customers' expectations. In fact, our fully staffed Driver Recruitment and DOT Compliance team carefully selects and vets all drivers, requiring them to meet DOT regulations and conducting two annual motor vehicle record (MVR) checks. 
This robust auto transportation training covers all car carriers and drivers, ensuring safe and timely vehicle shipping and ensuring our last-mile car transport drivers prioritize safety and follow protocol for every transport. We even offer no-contact pickup and delivery, as well as sanitization procedures, for further peace of mind. Drivers wear gloves and masks, disinfecting high-touch areas for both pickups and deliveries.
With ACERTUS' email and text notifications, the status of shipped vehicles will never be in question.  ACERTUS can customize these notifications with your business colors, logo and branding so, when a customer receives updates on their vehicle purchase, it appears as though those notifications are coming directly from you.  
ACERTUS proudly offers white-glove delivery service. Upon request, our highly-trained carriers and drivers can wear clean, company-branded uniforms and gear so your customers receive the same branding, professionalism, expert vehicle training and overall service — just as they would if they had physically come into your dealership or business to pick up their new car. 
Our experienced team will help you get things moving. Auto shippers will work with one dedicated point of contact throughout the entire home delivery process. From start to finish, the process is simple and streamlined.  
To get a quick, free transport quote, connect with a team member online.
LEARN MORE ABOUT HOME DELIVERY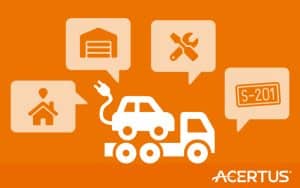 Ownership of electric vehicles (EVs) is on the rise. In the US alone, the EV market grew from just a few thousand vehicles in 2010
Stay ahead of the curve and have industry insights delivered directly into your inbox.