It's 2020 and, understandably, customers demand online options.
Last month, the US Department of Commerce reported that there was a record-breaking number of online sales in Q4 2019, at about $187.3 billion. Now that online shopping is simply a part of everyday life, ecommerce sales no longer simply revolve around straightforward consumer products like computers, smart phones and furniture. This trend is beginning to impact the automobile industry, as well.
But just as customers often go online to return a phone that's broken or a couch that doesn't quite fit, auto-industry customers want the option to return vehicle purchases. 
This is where reverse logistics – a complete supply chain dedicated to the reverse flow of products and materials – comes into play.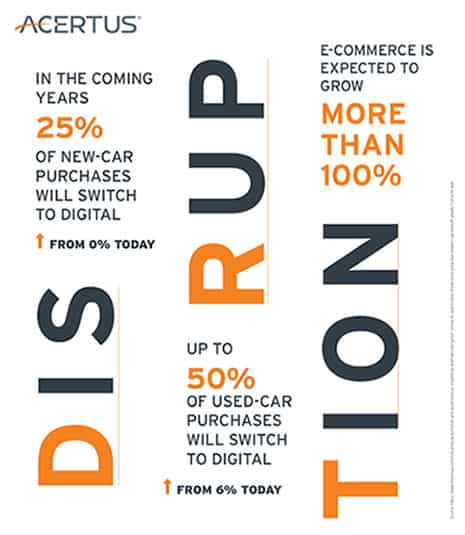 It's all about transparency, speed and efficiency

Recalls are a giant factor when it comes to returns in the auto industry. Inevitably, these recalls cause reverberations throughout the entire supply chain. Many times, a return or trade-in vehicle is located halfway across the country from where it must end up. Dealers and online retailers often face significant challenges in getting these vehicles back into their possession in a timely fashion.
With a recall or return, transparency, speed and efficiency are all crucial and "can make the difference in restoring the company's profits, brand and reputation and mitigating its legal liability."
Dealers can solve return or trade-in issues related to mobility and speed-to-market with a straightforward and seamless reverse-logistics process. A smooth transfer of possession helps guarantee the customer is left with a positive experience – even if the initial experience was challenging. And because customers expect convenience in addition to a transparent, fast and efficient process, ACERTUS offers one single source to take care of both vehicle drop offs and trade-ins.
With customers until the last mile
In addition to seamless reverse logistics, a service like our last-mile delivery can help provide a more premium trade-in experience to online customers.
Through the ACERTUS last-mile process, a brand-new vehicle is delivered to the consumer's home and, simultaneously, the trade-in vehicle is collected by a carrier or driver. Once the trade-in has been picked up, it's taken to a storage hub for any necessary reconditioning services, so it can get back to the dealer's lot. With such a hub-and-spoke model incorporated into our reverse-logistics process, dealers get their vehicles back into inventory quickly and efficiently.
Such a process saves both the customer and retailer valuable time, and it leaves both parties with the best-possible impression.
Choosing a reverse-logistics partner
Finding the best partner to provide reverse-logistics – especially with a strong level of transparency, speed and efficiency – can prove difficult.
More often than not, vehicle logistics companies focus solely on car hauler services. But this method doesn't work for retailers who need a partner that offers a fast and efficient reverse-logistics experience. At ACERTUS, our 55 secure storage-distribution hubs and reconditioning services, combined with our last-mile delivery options, provide ideal reverse-logistical solutions for both dealers and retailers.
Plus, thanks to our wide network of carriers and drivers, as well as asset protection and increased visibility, customers and dealers can rest assured that vehicles will be properly cared for and delivered to their final destinations on time.
For more information on ACERTUS and our solutions for reverse logistics, last-mile delivery and other services, visit https://acertusdelivers.com. To connect with one of our team members, contact us here or call us at 855-ACERTUS (855-223-7887).