Accurate and timely information is key, especially for Fleet Management Companies (FMCs) and other companies with automotive fleets looking to make crucial business decisions. Whether companies require reports on vehicle condition or driver accountability for drive-away services, information on the most cost-effective transport routes or metrics on spend and service-level agreements, business intelligence plays a critical role in driving data-informed business decisions.

As these companies work to gain further insights into their fleet vehicles, assess the efficiencies in their day-to-day operations and make changes when needed, many are partnering with vehicle-logistics companies like ACERTUS to gain further business intelligence, fleet analytics and reporting support.

There are a few important areas where such insights can benefit decision making of FMCs and companies owning and operating their own fleets– namely, with visibility, speed and efficiency, risk mitigation and overall value. ACERTUS, in particular, prioritizes these key factors when it develops business reports for customers utilizing its drive-away service or other vehicle-logistics solutions.

Real-time asset tracking, regular updates, nightly reporting and more – these elements are vital for companies looking to stay on top of their fleets, order status, service completion and overall business reality. No matter whether an FMC or company owning and operating their own fleets transporting vehicles from one destination the next, storing their fleets for a period of time or ordering a full range of logistics services, they want to have the most up-to-date information in their hands.

Those companies who utilize ACERTUS' drive-away service receive full Lifecycle Performance reporting, which runs through the start of the order through final delivery, outlines in detail how many days are left until delivery, how many days left for any potential repair, days left on future pickups, days where a service or transport is on hold and more. If a customer opts for additional fleet logistics services, such as title-and-registration, Lifecycle Performance reporting will also outline any days that vehicles were held due to DMV delays, as well.

Additionally, for companies that use ACERTUS' fleet-storage services, Storage Turnaround reports offer them further details on the location, safety and care-and-maintenance standing of their vehicles at any given time – giving them further peace of mind on the security of their assets.

ACERTUS also offers customers the ability to track where vehicles in real time, adding even more in-depth information on vehicle location, order completion and vehicle status. All of these insights benefit companies in knowing where their entire fleets and all active orders stand, allowing them to make the best-possible decisions for their unique business needs.

Speed and Efficiency
In a partnership with an outside provider, a company with fleets wants to be sure it is achieving the speed, efficiency and overall performance goals originally set. Some of the best markers for measuring such goals and ensuring they are met are Key Performance Indicator (KPI) and Service-Level Agreement (SLA) reports.
ACERTUS' KPI reporting manages data at companies' requested levels, helping them identify where they'd like to be in terms of speed to market, efficiency, cost savings and more, and sending regular updates on the status of each KPI level on a consistent basis. For example, companies that work with ACERTUS on drive away can use KPI reporting to determine whether their vehicle-transport partnership is benefitting them and helping them achieve vehicle deliveries as quickly as they'd like, without unnecessary downtime or delays.

In a similar fashion, SLAs allows companies to establish their priorities with ACERTUS upfront, receiving regular updates on whether transports and other services are being executed at satisfactory levels. Based on the commitment-like nature of SLAs, fleet-based companies are covered should any drops or misses in those measurements occur – whether from a timeline, speed, order-cost or vehicle-security perspective.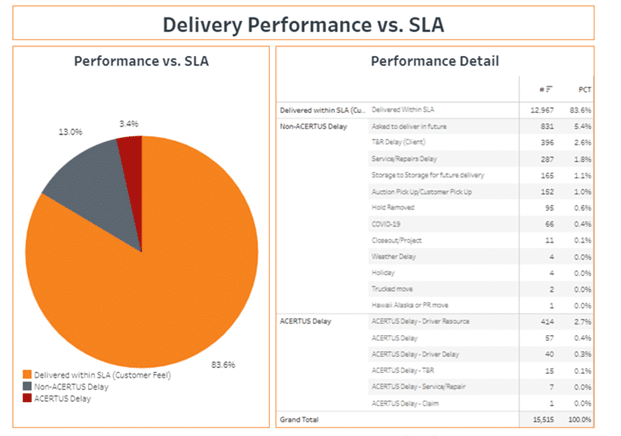 Value 
Cost-effectiveness and performance value are so crucial to a company's success, especially when its respective industry or market has been affected by uncontrollable factors like COVID-19 and its many ripple effects. To ensure it iss achieving the desired productivity rate it wants for each spend period, FMCs and other companies with fleets need to have access to data-driven insights.  
To ensure its customers are pleased with their overall expenditures and the value returned, ACERTUS regularly sends out Spend Per Move reports. Such reporting provides detailed spend information for each individual drive away, car haul, title-and-registration order, storage service or anything else. With such information, a company can thoroughly examine all costs associated with their ACERTUS partnership and plan out its next move accordingly. 


Beyond the Spend Per Move reporting, customers can also refer to their SLA and KPI reporting, ensuring that all formerly agreed-upon goals and productivity metrics are being met in a way that's efficient and value-driven. 
Risk Mitigation 
While visibility, speed, efficiency and performance are all key to a fleet-based company's success, risk mitigation must also be a high priority. Businesses that forgo asset protection or driver expertise for a better deal or even-faster speed may end up putting themselves at unnecessary risk or even sacrificing their overall performance value.  
 
ACERTUS offers customers a few different reports and business-intelligence insights, so they can avoid such risks and stay on top of all operations related to their fleets. Claim and Fleet Maintenance reporting instantly notifies companies if there is any issue with a vehicle or if any need for care or maintenance is required. It also keeps track of all active insurance claims on vehicles, as well as all related costs and required documentation.  FMCs and the other companies that work with ACERTUS will quickly and easily receive these reports regularly, ensuring they know the status of all their assets and can make fast decisions as the need arises. 
 
The teams at ACERTUS also generate continual reporting on state-based, regionally based and vehicle-type based needs, so no requirements or regulations for any potential vehicle or service order are missed. Such reports help with companies' larger strategic planning, as they work to plan where fleets should go, which vehicles should be moved and which should be stores, which vehicles need maintenance or other servicing. Customers can rest assured that any potential issue that comes up will translate into a quick notification, right at their fingertips, and will be addressed as soon as possible – ensuring high levels of security and coverage, no matter if a vehicle is mid-transit, in storage or close to a final-delivery point. 
 
The ACERTUS Difference 
When you partner with ACERTUS for your vehicle-logistics needs, you'll also gain access to a new tier of business intelligence, fleet tracking and big-data insight. Even if you have your own dedicated data-analytics team, we'll work closely with them and help streamline all information-collection and reporting, helping you be more proactive and efficient with crucial business decisions. 
Learn more about ACERTUS' full range of vehicle-transport and logistics services, including its drive-away solutions, at https://acertusdelivers.com. To connect with one of our team members or receive a quick pricing quote, contact us here or call us at this phone number: 855-ACERTUS (855-223-7887).